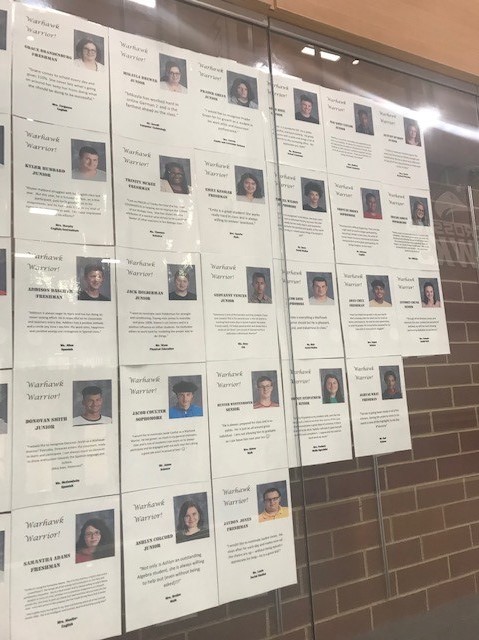 Submitted by Jessica Hickerson
Great Crossing High School has come a long way in establishing its own individuality within the community since its start this August. While laying the foundations for a new school and new traditions, encouraging positive culture is extremely important to administration and staff. The four "C's" of GCHS- Character, Culture, Courage, and Commitment- are the principles that the administration chose to guide the school. Culture is extremely significant to GCHS, for the new school is working to construct a long lasting environment from scratch for all the people within.  Still more components are being implemented this school year into to create a brand-new culture. One new program that has emerged is called the Warhawk Warriors. 
In a school environment, there is always heavy emphasis placed on academic performance. Students often feel that their education worth can be defined only by letters on a report card. Although academics are extremely important at GCHS, students possess a number of unique personal qualities and successes that deserve their own recognition. This celebration of improvement is an integral component of the culture that GCHS is aiming to cultivate this year.
Jessica Hickerson, a GCHS school counselor, elaborated on this need for acknowledgement. "Student recognition is important because we want our students to know that we see their accomplishments. They are not defined just by their grade in Infinite Campus and we see that. We see struggles, and we see them overcoming these struggles. We see the realization that something may have to change in order to find success, and them making these positive changes. We see their hard work, and that hard work needs to be recognized." 
This is where the Warhawk Warrior program comes in. Extending over the course of a nine-week quarter, students are observed by teachers to see improvement, whether it be through academics, behavior, or simply overall attitude improvement within the school. The program is designed to be highly competitive. "Teachers and staff only select ONE student per grading period, so it is a big deal to be recognized," Hickerson said. 
This program awards perseverance and the struggle students often times face when aiming for academic success. Recognition through the Warhawk Warrior program is a great way to reward students. "It's important to let students know that we notice and appreciate effort. While we may tell them that in class, recognition through a program like Warhawk Warriors sends the message to students that we really are proud of them," shared English teacher Leslie Murphy.
The students selected for the Warhawk Warrior title receive signs in the Great Hall showing their name, picture, and the teacher's reason for selection, along with recognition over intercom and a prize to accompany. This nine week's reward was a party taking place during 5th hour, where program winners could relax and enjoy lemonade and cookies. "I was able to attend the first celebration with students.  It was touching to see students react to seeing the comments that their teachers had written about them, especially when the students weren't expecting or used to having positive things happen to them at school," stated Murphy. 
Junior Kyler Hubbard, a Warhawk Warrior selected by Murphy for improved effort in English, was surprised but appreciative of the honor. He said, "I was confused at first about what the award was, but then I felt rather proud of myself to receive it since my effort in English last year wasn't good." Warhawk Warrior nominees will continue to have their celebration certificate posted in the Great Hall until the next round is determined at the end of the second nine weeks. 
This new addition at GCHS will be the first of a long line of programs and systems that will continue to grow with the school, establishing new traditions for years to come. "More student recognition ideas are in the works," Hickerson shared. "We would like to recognize students that become Transition Ready, achieve growth on their tests, make the Honor Roll, have great attendance, and more." Warhawk Warriors, along with the budding network of culture-building systems at GCHS, are creating new opportunities for both students and staff to feel "at home" and recognized within the new environment. 
"It is important to recognize student improvement," Hubbard concluded, "because then recognized students gain confidence knowing they have excelled in areas they [may have] once struggled with." 
Congratulations to GCHS's first round of Warhawk Warriors:  Samantha Adams, Grace Brandenburg, Mikayla Brewer, Amontae Brown, Tyris Cobbins, Jacob Coulter, Ashlyn Colcord, Lyndsey Crunk, Adan Cruz, Markeese Dean, Addison Dascher, Syndey Fitzpatrick, Prader Green, Seth Heil, Codey Hillard, Jack Holderman, Khyler Hubbard, Jaydon Jones, Emily Kessler, Jacob Long, Trinity McKee, Jakeece Patterson, Donovan Smith, Shelby Smith, Autumn Sparks, Mal'Khyi Taylor, Geovanny Vences, Hunter Westenhofer, Brandon Williams, Tyrell Wilson, and Jarvae Wray.