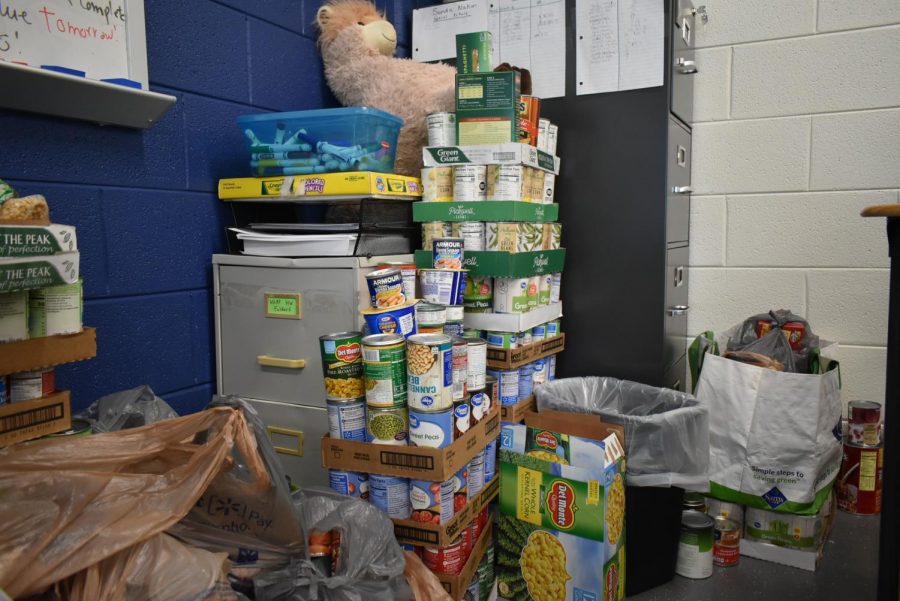 At Great Crossing High School and Scott County High School, the annual battle of the cans has begun. The two schools will be donating their canned foods to the AMEN House, a local organization in Georgetown. 
The AMEN House has been working to feed the hungry in Scott County for 29 years. The AMEN House have maintained a focus on nurturing partnerships with the generous citizens of Scott County, partners with other organizations such as God's Pantry, the USDA and Feeding America, in addition to the two high schools in Scott County to end hunger that exists in the community.  The goal is to end hunger in Scott County.
A recent letter sent to supports of AMEN House revealed that the organization now provides help to an average of 1,400 people and around 800 families every month.  The canned food drive from Scott County Schools helps to fill their pantries for several months. In that letter, Carlisle, the Executive Director of the AMEN House, wrote "Last month, over 900 families reached out to the AMEN House for help feeding their family. Last year we were able to say yes almost 20,000 times to individual requests for food assistance." 
Amanda Sunda, a teacher at Great Crossing, has been a big supporter and participant of the canned food drive since 2012. Sunda also said, "I think by participating in the canned food drive shows that we are involved with our community, that we love our community, and want to help out everyone in our community." 
The majority of her students have participated in the food drive due to her encouragement. Moxley Francis, sophomore, is a student of Mrs. Sunda and explained one way that she gets students to participate. He said, "She has a little money donation box too so if you can't go to the store you can just donate some money."  
Hunter Blankenship, a sophomore at Great Crossing, donated 388 cans and other food items in one week. "I brought mixed fruit, pineapples, peaches, a bunch of green beans and corn, types of beans, and some peas," he said.
Hunter explained why it's important for him to donate. "It's important because, whenever I was growing up, it was always something we did. Like when we went to church, they always had a canned food drive going on. My elementary school was very into donations. It's something I do regularly." But Hunter did more than just grab a few cans from his own kitchen or tossing a few extra into the cart when his family went to the store.He said, "I collected donations and added fifty dollars of my own money to it because I felt like this is something I need to do. I don't usually use my own money." 
Hunter's parents are also very supportive of his decisions to donate. He explained, "They posted on Facebook about it, and they drove me around to collect the cans, because my neighbor hood is kind of spread out. And they helped me print out the flyers that we handed out." 
There is still time for students to participate in the canned food drive.  Items will continue to be collected until the morning of November 26th. Mrs. Sunday has a few recommendations if students are looking for suggestions as to what to donate. "We have a whole lot of non-perishable items like green beans and corn, but we are running low on pastas and mac-and-cheese," said Ms. Sunda.