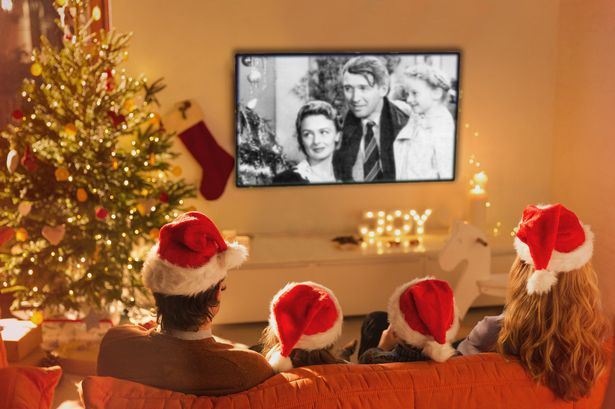 Photo from https://i2-prod.derbytelegraph.co.uk/article3635043.ece/ALTERNATES/s810/0_Christmas-Film.jpg
With the COVID-19 pandemic not looking to diminish any time soon and case numbers rising, it's very important to stay home and social distance, especially with the winter season and holidays coming up. These next cold months can very well make the pandemic all the more challenging. Most people are starting to feel 'pandemic fatigue' and are tempted to disregard all safety precautions. However, there are ways to remain safe and keep busy while at home.
Alyeace Geary, a junior suggested watching Netflix with friends virtually. Apps such as Rave and Airtime allow people to enjoy television shows and movies with friends and family without being physically together. "I watched Netflix in real time with my friend and we both watched the same movie at the same time together and it was a really fun time. We paused it and talked about what was going on, things that were stupid, and just poked fun at the movie," Geary said.
If you're on a laptop, there's a chrome extension called Netflix Party that serves the same function as the apps listed above. With Christmas coming up, this could help watch holiday movies with those who aren't physically in your company. Klaus, Tokyo Godfathers, The Nightmare Before Christmas, Elf, How the Grinch Stole Christmas, Home Alone, and Disney's A Christmas Carol are some recommendations for the upcoming holidays. 
Another option to keep busy in December is to plan a time to do some online shopping for family and friends. Clara Gilpin, a junior, and her mom Holly Gilpin, who is an art teacher in Fayette County are switching up how they handle shopping for gifts this year. "We're not going out and buying things. We're just ordering stuff off of Amazon," Clara stated. Holly added, "Shopping online, I am not used to that." 
Expensive gifts don't have to be bought, there's always the option of being creative and making gifts instead. "And if you don't have supplies you can literally make things out of plastic spoons, so there's really no excuse. There's always something you can do," Clara added.
Geary and her family are making their gifts as well. "We're just gonna make each other stuff. I'm gonna make my parents cards and maybe some sketches and drawings and stuff like that. I think that people are really limiting themselves and should get creative."
Making gifts for others can be enjoyable and provide leisure. There are many ways to be creative and make gifts such as making personalized cards, baskets or small gift bags with trinkets such as candy, notes, or jewelry inside. Challenge yourself and make a plushie or crochet a blanket. Websites such as countryliving.com, thebirchcottage.com, and diyncrafts.com offer easy gift ideas that can be made at home.
The Gilpins recommend going on drives with the family as well. Drive to nearby counties and listen to music, sightsee a bit from the comfort of your car. "Here's a thing we've done from the beginning, just go out for a drive. Say you're gonna discover something new that's around 10 to 20 miles away in another county. We've done that a lot," said Holly. 
With the bonus of Christmas coming up, admire the holiday decor and lights neighborhoods have to offer. Look up light shows that are grand such as the Southern Lights. "Go out and drive during Christmas time with your family."
"Yeah, and now more than ever I feel like things like that are more entertaining than they would be any other year. Like when you see a well decorated house, I feel like with everything going on, it'd be more awesome," Clara added.
Use Time at Home To Encourage New Hobbies
With the new year approaching as well, rearranging your room to feel productive and feel as if you have a new room is something you could do to keep busy. Rearrange your furniture and go through your clothes and pick out what you don't wear anymore. Order some new items such as posters, plants, and lights to add to the decor. 
Pick up a cozy hobby such as baking. Bake for yourself, your family, or friends. Holly suggested, "You can do baking and socially distance drop it off. People think you have to stay inside 24/7 and quarantine. I know everyone has their own ideas, but the safest thing is to see your friends and talk to them, all while being at a distance. That's how we did Clara's birthday parade with cars."
"It'll be okay, we will get through it," Holly concluded.