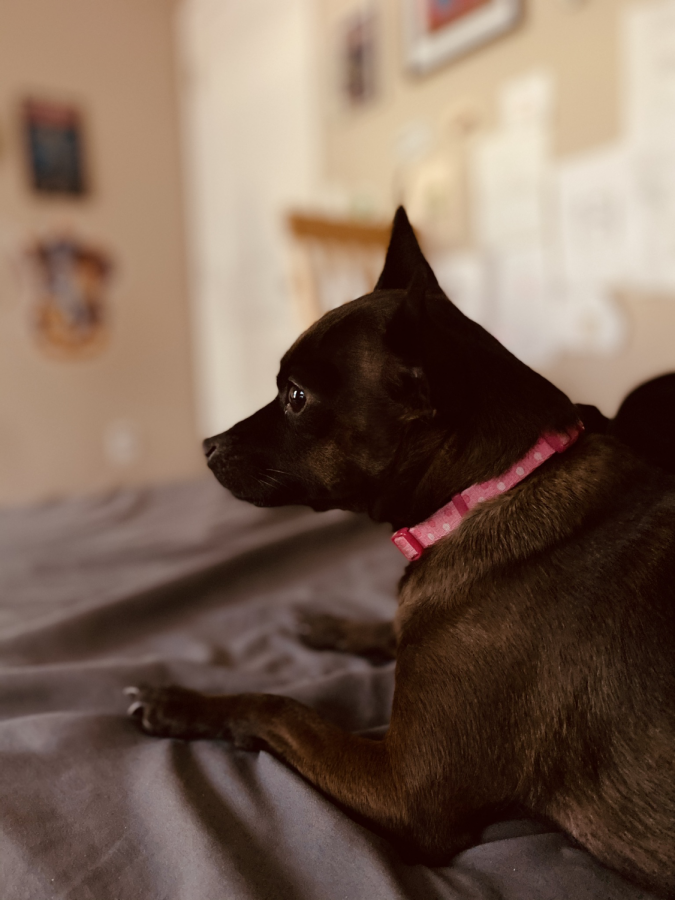 Photo Submitted
Many people around the world love having a pet at their side. They create fun, or even crazy, memories in life. This companion may lay at one's side while he does schoolwork or even joins in on a zoom call. These tough times of the pandemic have been made easier for many because of a loving pet by their side. In fact, while many people are feeling down by the thought of quarantine, their pets are probably overjoyed with their owners being home all of the time.
 Angie Solis, a sophomore at GCHS, is the owner of a dog. "He has helped me by keeping me company and having someone around." Solis often takes her dog on walks with her family around their neighborhood. She said that her dog is quite nice to others, "He is very active and friendly with other people and little kids." 
Dogs have been a man's best friend for many, many years. They stuck by our side through thick and thin. They help pick us back up when we are feeling down. Pets in general have been used to help alleviate stress and anxiety in many individuals. Although, in the past, and even the present, comfort pets are confused with therapy animals. While they may share some similarities they also have wide differences.
The difference between an emotional support/comfort pet and a therapy animal is that one provides emotional support to many people and has special training while the other requires little to no training. Liz Norris, service and therapy dog trainer, stated, "A comfort animal is a pet you have at home. Like, you could have a pet cat, you could have a pet dog, it is just a pet that you like to pet on. A therapy dog has to be certified, insured, and trained." 
Therapy dogs have often been invited into facilities to help brighten the day of those within it, whether it be a hospital or a retirement home. These actions have continued since the beginning of the pandemic, with some safety precautions. Norris explained how they use their therapy dogs differently during 2020, "We've done a lot of visits with the therapy dogs, including taking them out to visit people in private homes. You have to, of course, have your mask on and go through the protocols of whatever facility you're visiting," Norris explained.   
Norris also shared that therapy dogs are often used to relieve stress for essential workers.  "We've taken them to destress with the canine responders. We've done some work with the Kentucky state police to take the dogs in and work with them. The visits work to destress their employees. They basically just hang out with the dogs, pet the dogs, and use the dogs for comfort in that situation." 
Not all therapy animals are dogs though. They come in all shapes and sizes. Norris added, "There are bunny rabbits, cats, horses, little miniature ponies, hamsters, guinea pigs. Pretty much any soft, little, cuddly thing you can use for therapy."
While the majority of our students at SCHS don't have therapy animals, they do have comfort animals, and they also come in a wide variety of forms.  Lindsey Knecht, a sophomore at GCHS, has pet chickens and ducks. Knecht stated, "(We) walk around the yard and play in water sometimes." Knecht continued, "They have made me happier, I can say they brighten me up at times."