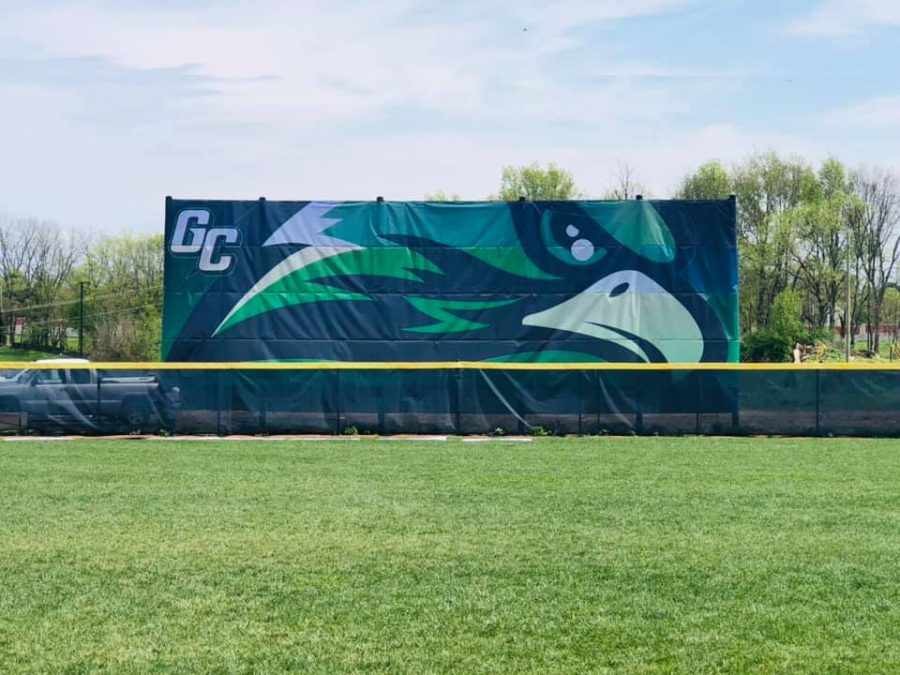 Photo Submitted
Great Crossing High School's athletic facilities are in the final stages of construction.  This spring one of the last projects for the baseball field was to install the batter's eye. Students in the informational technology pathway collaborated with coaches, students, and parents to complete the project.
Zac Lyons, a senior baseball player that also worked on the project, explained why the field needed a batter's eye. "The purpose of a batter's eye is so you can visually see the ball from the pitcher's hand so it doesn't get lost in the sky or the trees behind him."
 Lyons and Tirlea were under the supervision of GCHS computer technology teacher Dewayne Hancock. Hancock explained why it took several months for the project to be completed. "There were a lot of people involved: coaches, parents, and students." 
Athletic director and assistant principal Austin Haywood stated why it was so important to have the students involved in the process. "We choose to have students involved in everything we do at GCHS.  We are fortunate here to have resources so that students have the capability to do that. A lot of things we do around campus are student driven and done by students."
The first step was to determine a design that could be used. Senior Jacob Tirlea, along with Lyons, played a big part in the design and installation of the batter's eye. Tirlea explained that when thinking about a design, he was "just looking for something that looked mean, and maybe intimidating to the other team."  
Hancock explained that after some potential designs were developed,  "we put those out on Instagram to see which one would be selected through a vote. Even though it wasn't our favorite choice, it was the consensus of the instagram voters, and so that's what we went with," said Hancock.  
Hancock believes that design "is always the most challenging part."  Integrating the school colors of blue, green and white into the design required some thought.  Hancock explained, "The batter's eye is designed for when the pitcher throws the ball, for the batter not to lose the ball and visually see it. So if we used white on the batter's eye, then we were not helping the batter out. So we had to make sure none of the white spots hit right directly behind where the pitcher would be." 
A project of this size comes along with many challenges. Mr. Hancock stated, "I had given this challenge to multiple students. Most of the students were so overwhelmed by the size, they could not process what it would look like. Jacob Tirlea and Zac Lyons had a difficult time, but they were able to actually go out there and stand in front of it and see how big it was and visualize it."
The next step was the printing process. Students had to closely study the design on a computer screen, and determine how the entire image would need to be broken down into panels.    Hancock said, "And once all that was done, we sent it off to our printer. We printed off 4 50ft long 4ft wide panels. And after we had them all printed, we took them to a company in Lexington called AdColor, and they stitched them together." 
After lots of time, effort, and challenges, Mr. Hancock and his students were finally able to complete the job and get the batter's eye installed on the field.   Hancock commented, "I looked at it for a couple of months and visualized in my head, and I laid it out on the gym floor to get an idea of what it was going to look like. But there was nothing to describe what it looked like when it went up. When we first were hanging it, it didn't seem like it would be a good view. But Coach Straton and I went into the infield to look at it. And there was nothing to describe how I felt about the way it looked." 
Haywood also believes the student's work was well-done and a solid addition to the athletic complex. "I think the batter's eye looks great. It looks great from a visual standpoint and how it makes our stadium look.  It's helpful for our athletes. And it's very good for our IT program."
Seniors Jacob Tirlea and Zac Lyons both also seemed very pleased with it. "I was proud of myself and Zac and worked really hard on it so I was proud of both of us," said Tirlea. "It's pretty cool to be up to bat and look out there and say "Oh yeah! I made that," stated Lyons.