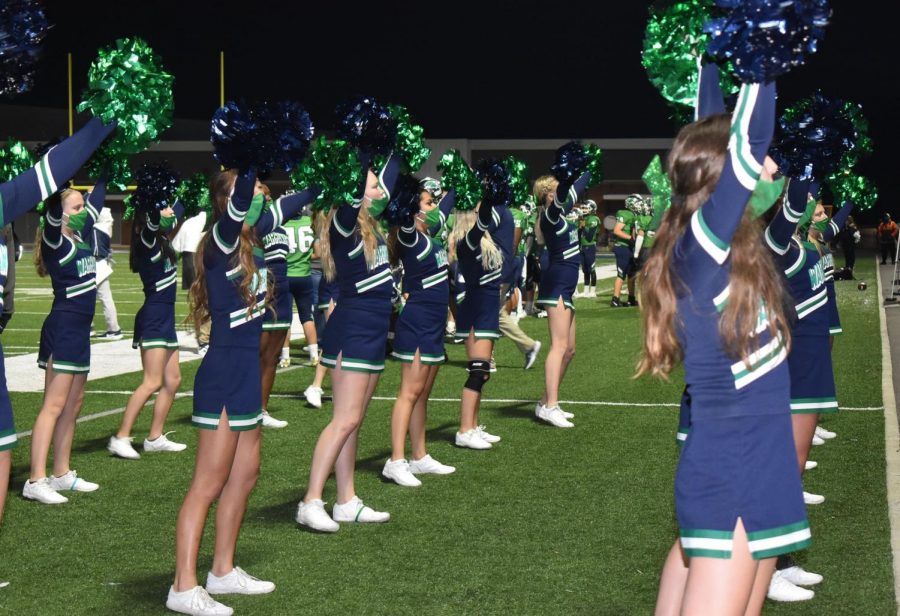 Skylar Hamon
The girl steps up to the mat, her heart racing. She has 2 and a half minutes to perform.  The jumps, stunts, tumbling and pyramids planned run through her mind. She sees hundreds of other girls with hair high and poms ready. Each team is judged by a panel of cheer experts on difficulty, execution and precision.  This is the world of competitive cheer.
One of the newest additions to Great Crossing High School's athletic program will be a competitive cheer team, starting in July. Becky Brown, who will be the head cheer coach for next year, is excited to get the year underway. "My focus with this team is to build a successful cheer team/program by creating a culture of hard work through consistency, planning, passion and positivity," Brown explained. 
In its first two seasons, the GCHS cheerleading program was solely a spirit one. In spirit cheer ,the main priority is going to games hosted by the sporting programs at each school and cheering for the teams. In competitive cheer, cheerleaders work on a routine based on the teams skills and sign up for competitions throughout the cheerleading season. 
 Having a separate competitive cheer team opens up new opportunities for Great Crossing's athletes. Brown said, "One of the benefits of having a competitive cheer team is the long-term vision. Competitive cheer helps cheerleaders establish and manifest their long-term goals as well as give cheerleaders the physical and mental tools that will support them throughout life. Competitive cheer will also build school spirit and help to preserve school traditions." 
However a new team brings a whole new set of challenges: productivity, motivation, and organization. Building a program from the ground up can be difficult, but Brown is optimistic. "I coached GMS cheer for two years and SCHS Cheer for three years. I have the experience, but I also know that every team has different challenges." 
Being on a competitive team brings a new obstacle to the cheerleaders. Sagan Baxter, a junior cheerleader at Great Crossing High school said, "It's going to be an adjustment, coming from strictly cheering games and learning sidelines. I hope that the team will be able to work together to place well in competitions."
One of the worries Brown has is dedication. "Commitment is what every coach cherishes. We want cheerleaders who are committed to show up to every practice and give it their all. When cheerleaders are committed, they become critical to the success of the team," she said. Brown knows it can be a challenge for some students, "Practice for competitive cheerleading will be regular and consistent. We will practice two to three days a week and may add some Saturday practices. We practice for games, competitions, pep rallies and exhibitions."
However, success is not only defined by wins. "It's important to understand that winning is not a goal, but the result of a process that starts with where your team is on their journey," Brown explained. 
Even so the reward would be all worth it for our Great Crossing Cheerleaders. Coach Brown said "We plan to participate in at least 3 competitions this year." The goal for the season is earning a bid to the end of season event called "The Summit" hosted in Orlando, Florida with teams from all over the country.
 Madison Lairson, a senior at Great Crossing, has been on an independent competitive cheer team for three years. She explained the struggles she has had to overcome, "It's definitely hard to balance getting all of my work done on time and to a high standard with the amount of time I have to spend away from home practicing or traveling to different states/cities to compete." 
Competitive cheer teaches time management to each cheerleader, as they have to overcome time restraints and get organized. Lairson shared, "Usually I'll spend about 7-8 hours a week at the gym practicing with my team, but if I have private help from a coach to work on my personal skills, I'll spend about 10-12 hours a week." 
Baxter agreed that it can be difficult to stay organized. She prioritizes in order to stay on top of it, "I've maintained a 4.0 throughout high school while doing cheer, and I make sure to get my school work finished because I am a student before an athlete."
Competitive cheer teaches time management to each cheerleader, as they have to overcome time restraints and get organized. Lairson shared, "Usually I'll spend about 7-8 hours a week at the gym practicing with my team, but if I have private help from a coach to work on my personal skills, I'll spend about 10-12 hours a week." 
Our current cheerleaders are excited to have this opportunity. Baxter said, "I've been cheering for 5 years and over the years we didn't go to competitions. It just wasn't the same and competition is a really fun experience."