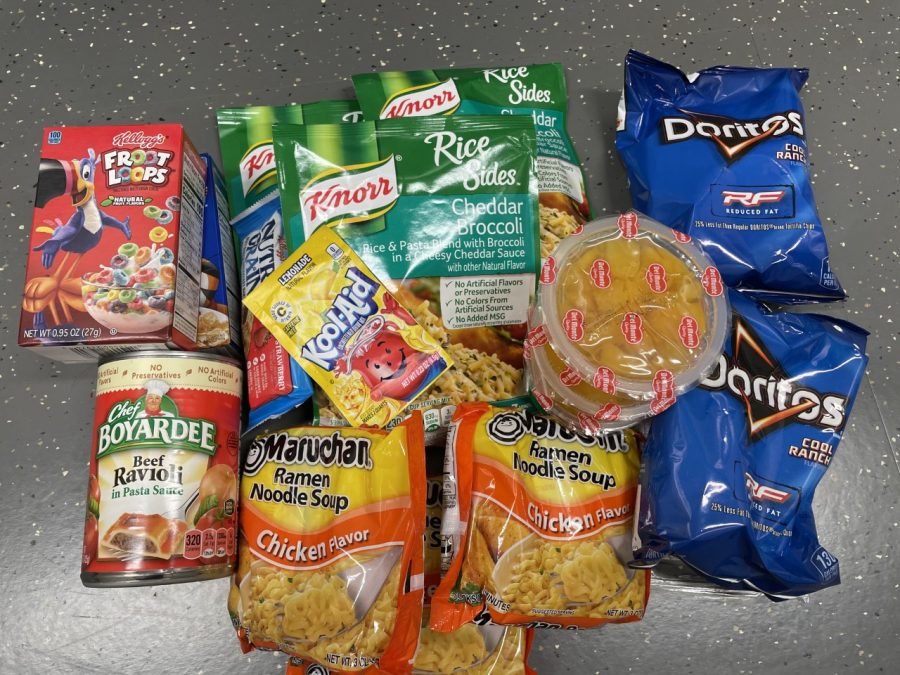 Rose
The backpack program at GCHS is designed to help students who may not have enough food at home. It is designed to be a supplement for the weekend when students don't have access to a school breakfast or lunch.  In recent years, there has been a growing need for schools to help students get the nutrition they need while away from school.  
Childhood hunger is a major issue in America. According to FeedingAmerica.org, 1 in 6 children may not know where their next meal is coming from. This is an increase due to the pandemic and parents losing jobs. Kentucky has an even higher rate, with 1 in 5 children not knowing where their next meal comes from.  Hunger can lead to issues in school for students, because they might not be able to concentrate as much. Some students may be more focused on getting their next meal.
Cheri Risher, GCHS's school social worker, acknowledged that food insecurity is a problem in the school for some, and she works with families to address their basic needs through the school's backpack program. Students can pick up a backpack weekly that is packed with enough non-perishable items to cover breakfast, lunch and snacks for the days away from school. These items are non-perishable so that nothing can spoil. The students pick up their backpack every Friday to take home for the weekend. 
Risher works at the start of each year to determine who may need the extra assistance.  "We do a survey in order to figure out which students need the program," Risher said. The program is especially important right now due to the pandemic and the fact that many parents have lost their jobs. Risher stated, "At Great Crossing, I have 25 students in the program, but I think more kids could use it. However, they might be uncomfortable."  While Risher sends out her survey at the beginning of each year to determine need, a student can enter the program at any point during the year if the family's situation changes.  
The program is primarily funded through community donations.  In the past, GCHS had churches sponsor the program.  However, the pandemic interfered with many churches ability to fundraise, and they had to pause their participation in the program.  The largest support of the program this year has been GCHS parent Julie Amburgey.  
Amburgey has helped with the backpack program at SCMS ever since she was able to, which has been about 12 years. She learned that the program existed at Garth Elementary and she has worked to support several other schools in the district as well. She currently works to provide items for SCMS and GCHS.
While Amburgey got involved as an individual, she has now rallied her neighbors in Canewood to become involved with the program. "My neighborhood in Canewood provided foods such as granola bars and pretzels. They drop the food off at my doorstep, and then I take it to the school. I have about 30-40 people who help me."  Juett Heating and Air, Amburgey's employer, has also been able to donate items to the program on a regular basis. 
Amburgey talked about how times were hard for her growing up, and how she is able to relate to these kids.  She commented, "This program is important, because we all come from different backgrounds. It was harder for me when I was younger, so I know what these kids are going through. This is a very meaningful program to me."  Amburgey said she plans to always support this program, even once her children are out of school. 
Risher also talked about how the community is able to help. "We are always accepting donations. Any non-perishable food items are great." Suggested items include cereal bars, poptarts, beef jerky, fruit/applesauce cups, chips and pasta items.   Household basics such as laundry detergent, toothbrushes, toothpaste, deodorant, shampoo/conditioner and body wash are also needed. Individuals are also able to make cash donations as well.            
Donations can be brought anytime during school hours.