Elective Choices Continue to Grow at GCHS
As this school year ends, students are looking forward to new classes to take next year. Electives are exciting and allow students to have a variety of opportunities in learning something they're interested in. Some are more well-known, like taking a foreign language or a PE course. With the change to a block schedule next year, students will have more opportunities to take elective classes, many which will provide students with skills for life after high school.  
One department with elective options is agriculture.  They offer an Intro to Greenhouse course. However, before taking this class, students need to take Principles of Agriculture Science & Technology. Both classes will give an introduction to learning the foundations of the agricultural industry, plant science, and the mechanics of agriculture.  Emilee Wiler is an agriculture teacher at GCHS and said that Intro to Greenhouse is a popular class.  Wiler said, "This is our most hands-on class. We raise crops from the ground up. We do more classroom activities in the winter like floral labs and growing poinsettias, and we spend the spring in the actual greenhouse growing and observing crops." 
Wiler really enjoys teaching this class and watching the students learn about nature in such a hands-on way and invites anyone to join. Wiler said, "Give it a shot! It is one of my favorite classes to teach!" 
Learning about the basics of agriculture isn't the only benefit of the greenhouse class.  Students are eligible to join the FFA organization as well.  Junior Cora Howard stated, "Being in FFA has shown me that agriculture classes aren't only about cows and plows, but they are to show you that you're a leader and achiever, to not only you but your fellow classmates. I'm currently enrolled in the greenhouse class where we are able to do many things such as planting and watering during our greenhouse season to prepare for the spring sale. I have been able to learn growing plants is not the only lesson you can learn. During our annual greenhouse sale, my fellow classmates and I are able to learn customer service to better ourselves to speak with our customers in the proper way." 
"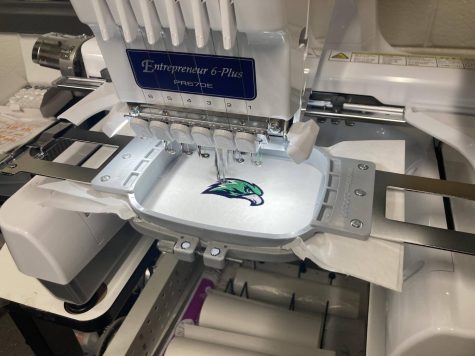 Learning from Mrs. Cannada and working in the embroidery lab has been very rewarding.  The skills are fun and useful.  Mrs. Cannada provides a very accepting environment, loves all volunteers and teaching anyone interested.  Embroidery is a great way to be creative and explore different career options.  Learning embroidery has given me many skills for opening my own business in the future.
— Savannah Butler, sophomore
The goal of the Family & Consumer Science department is to help students gain essential life skills through their elective courses. One of the new electives the FACS department will offer next year is called Fashion Design taught by Cathy Cannada, and it will be brand new to GCHS in the 2023-2024 school year.  In that class, students will learn the skills needed to own fashion related businesses, as well as develop skills on clothing construction, alterations, etc.  
 Cannada said, "Fashion Design will include using sewing skills to learn how to make clothes for the business they want to pursue in this class. But next year I want to have my students learn with the embroidery machine to continue learning. Fashion is secondary to the entrepreneurship aspect of the class." 
Students find this class very useful. Sophomore Savannah Butler said, "Learning from Mrs. Cannada and working in the embroidery lab has been very rewarding.  The skills are fun and useful.  Mrs. Cannada provides a very accepting environment, loves all volunteers and teaching anyone interested.  Embroidery is a great way to be creative and explore different career options.  Learning embroidery has given me many skills for opening my own business in the future."
History will also be able to offer new electives with a block schedule. One in particular is Women's Studies, which will be taught by Erica Blair. She finds this class interesting personally and thinks that it is important. She said, "Women are powerful. They have played a major role in history that is oftentimes silent. When women's history is discussed in traditional classes, it is reduced to getting the right to vote. I want to shed light on the impactful role women have played in the past." 
Blair is looking forward to all the students she will have in this class, and students are just as excited. Sophomore Sammy Brock, "I signed up to take women's studies because I want to learn more about being a woman and what all comes with that title."