Restaurant Employees Feel the Stress of Covid Protocols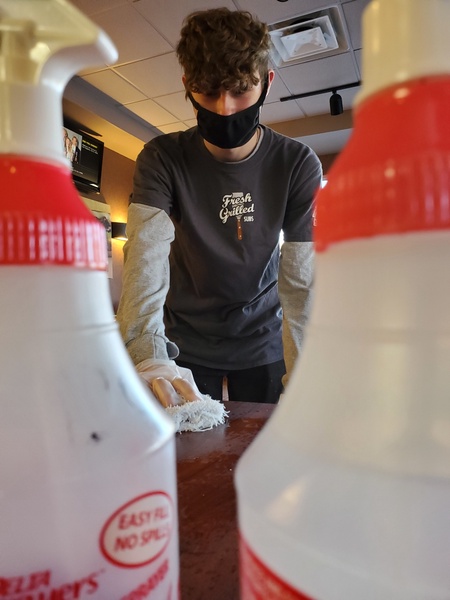 Clean the floors, scrub the counters, bleach the bathrooms, wipe the door handles… Working in a restaurant during a pandemic is challenging. Restaurant workers are in the center of the pandemic changing social interaction, and they experience it far more than non-workers, or workers from home. The changes the pandemic has brought upon these workers are changing the ways they've always done things, and for a lot of workers, it creates extra stress.
 Pre-pandemic, employees were able to comfortably work in the restaurants and not have to fear catching the corona virus. Now, these same workers are being pushed to their limits of what they can handle as they are faced with new and strenuous cleaning tasks, shorter or longer hours, and customer opinions on their mandatory protocols. Toni Day, senior at Scott County High School, and former employee at KFC, stated that," I was working 50 hours a week over the summer. When employees went on vacation, they weren't allowed back for 2 weeks until they tested negative for Covid. So, we were super short-staffed, and whenever someone went on vacation, or was out, I would fill in for them, and that was a lot on me." 
 An employee at Dairy Queen, GCHS senior Kaitlyn Baker, described the many changes she has seen at her job since the pandemic began.  "Before Covid, we would occasionally just go and clean all the tables. Now, we have to clean them whenever any customer enters the restaurant, even if they just sit over on the corner, we have to clean all of the tables. We have to mop the same floor like 20 times.  We used to just change gloves when we handled money, and we just touched the money because it wasn't that big of a deal. We all knew it was dirty, but we worry about it now, and we have to have gloves on at all times, no matter what. When someone comes into the drive-thru, we have to clean the area all around that. Basically, any surface that is visible, we have to sanitize." 
 Day recently quit her job from KFC due to the extensive hours and the change in the restaurant due to the pandemic. She said that "With the virus, it was just so weird going out into public and being fearful all the time. I had never been out in public and been fearful for my health or other people's health or worrying about contracting something… Comparing KFC to my other job, it was very different, because the drive-thru was twice as packed. We had to take other precautions to make sure that the restaurant was clean and that the drive-thru was clean, because social distancing from customers and carry-out orders was a little hectic to get used to with all of the procedures for the virus." In addition to adjusting to new restaurant policies, restaurant workers have to adjust to their speed times. A key part in fast food is that the food is just that…fast. It has to be done in a quick manner so customers can go about their day without complications from the restaurant, and a long wait time. It affects both the customers, and employees, and Day explained that "  I think there's a lot of tension in the work environment because we have so little time to do so much. We have to do everything we would normally do, except we have to make sure we're doing it in a safe way. Every time I come into contact with a customer, I have to change my gloves, which slows things down and it makes everyone on edge. We have to constantly clean our spaces and every so often we have to take our temperatures, and we had to change our masks every time we took it off."
"
It's honestly exhausting. Customers are short with all of us, and I can't say that I blame them. The covid protocols are taking away from their fast food experience. We can't close the doors until the pandemic is over, because that would have meant putting myself and my employees out of jobs from March this year, to however long in the future.
— Trevor Thorn, Penn Station general manager
 Communication is key in a work environment, but communication is sometimes lost when everything gets busy due to the increased drive-thru customers, and increased sanitization. Communication is important to make sure all of the virus protocols are being followed, and that business can run as smoothly as possible despite them. It's especially important to keep communication between employees so they feel more confident in their steps that are now foreign to them. 
 In adapting to the restaurant's new sanitization tasks, Baker says that," I feel like once the virus is over, there will be a mix of what people do. I think some employees will keep sanitizing as much as they do now because it's become routine for them, but I also think there will be some who start slacking once Covid isn't a problem as much, and it could bring covid back again." 
 There is fear in every step managers and employees take when running their restaurants. They have sacrificed their time and efforts to keep everything as clean as possible. They are following protocol to every necessary measure, which means sanitizing after every contact to take every extra step to keep the virus out of the restaurant, and keep their business and paychecks going. 
General manager at Penn Station, Trevor Thorn, said "It's honestly exhausting. Customers are short with all of us, and I can't say that I blame them. The covid protocols are taking away from their fast food experience. We can't close the doors until the pandemic is over, because that would have meant putting myself and my employees out of jobs from March this year, to however long in the future. But, I hope we don't have to keep going like this for too much longer. Our business is running fine, and the customers are still happy for the most part, but all of the extra things on the checklists are wearing down my team."