Teens Still Enjoy Celebrating Halloween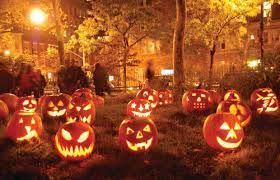 Door bells are ringing, kids are laughing, and are screaming all night long. Candy is thrown about to children disguised as witches and goblins, while other children are hissing and booing at the houses without a light on.The teenagers that have spent a long time planning out their outfits finally get their chance to shine, spending the night at parties dressed up in their well thought out costumes. Others are exploring haunted houses or watching a classic horror movie. On Halloween, all ages are out. 
October 31st is a day of tremendous excitement  for teens. Concerns about college applications or shifts to be picked up at work are tossed aside for one night, and the chance to relax and be carefree comes once again.  Whether they are trekking through neighborhoods and ringing doorbells in hopes someone will give them candy, visiting a local orchard with family or gathering with a group of friends for a scary movie, many teens enjoy celebrating Halloween.    
Halloween creates a lot of childhood memories that teens treasure, which motivates them to continue to celebrate it. Kennedy Wagoner, junior, said, "It was very fun and I would go trick or treating with my family. My family and I always dressed up together and would go to haunted houses." For Wagoner, Halloween reminds her of spending time with family and making memories that would last a lifetime. 
Anastasia Jaddock, junior, remembers Halloween as a family activity as well. "I would go around my neighborhood with my siblings, and have huge pillowcases that would be full by the end of the night," she explained.
Some teenagers may prefer to skip trick-or-treating with family and spend time with friends instead. Arabella Smith, junior, said "I like to visit the pumpkin patches, watch horror movies, and bake cream cheese pumpkin bread." 
Scary movies are a key part of Halloween for some teens that don't want to trick-or-treat or make a trip to the pumpkin patch. In fact, Smith said "They are superior to every movie genre in the universe," Teenagers watch horror movies for the thrill it gives them and the privilege to say they have watched them.
If one's goal is not to be scared on Halloween, there are some more heartwarming options that teens would enjoy.  Evan Quatman, senior, said "My favorite movie to watch is "The Great Pumpkin Charlie Brown.'". 
Another popular movie with teenagers is Hocus Pocos. Senior Jacob Marcum said, "My favorite is 'Hocus Pocus' because it's a movie that everyone can enjoy." 
Halloween will always be a day for teenagers to seek enjoyment. No one needs to worry about school work, college coming up, or when the next unit test is. Halloween is a day to be nostalgic, have fun, and make memories.