In the Mood for Christmas Nostalgia? Visit the Southern Lights Holiday Festival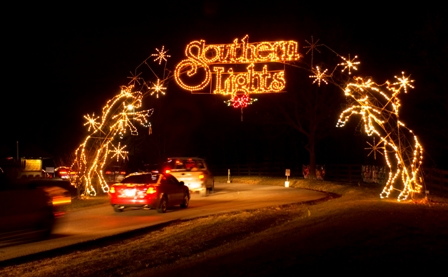 Many of us who have grown up in Scott County know of the Southern Lights Holiday Festival at the Kentucky Horse Park. But did you know that this 2019 season marks its 26th year in operation? For 5 consecutive years, the Southeast Tourism Society has named the Horse Park's Southern Lights Holiday Festival as one of the Top 20 Events in the Southeast. No wonder it has become a Central Kentucky holiday staple. 
As a child, I remember being captivated by the lights, as I peered out the window with a hot chocolate in hand while my parents drove slowly through the bedazzled maze. Feeling a bit of Christmas nostalgia, I decided to return with friends recently and was glad I did.
The displays make for quite a spectacle. Ashlea Gullett Beeson, Development Coordinator for the Kentucky Horse Park Foundation, that helps promote the festival each year shared some fascinating facts about the display.  Beeson stated that, "6,000 labor hours are required to install and dismantle The Southern Lights Holiday Festival" which feature over 1,150,000 lights, an amount which Beeson says "grows every year!" She added that "As of 2018, all of the light displays have been converted into LED lights in efforts to reduce energy usage." Truly, the event makes for a sight to behold. 
Here's all you need to know to set yourself up for a merry little cruise. First, I suggest you make a quick stop at your favorite hot beverage retailer. It makes for a more cozy meandering journey through the lights. I recommend Starbucks, specifically a hot peppermint mocha. Next, gather your six best friends, as a carload of up to 7 people costs $20 during the week (Monday-Thursday) and $25 on the weekend (Friday-Sunday). Ideally, plan to go during the week to both save money and enjoy a more leisurely drive. My group went on a Wednesday evening, and we only saw three other cars. The gates open at 5:30 and stay open until 9:00 during the week and until 10 on the weekend. Finally, once you are there, enjoy the light show extravaganza. Visitors will begin their journey with a Star Wars lightsaber duel, followed by the Twelve Days of Christmas, and ending with their favorite fairy tale characters, as well as Dorothy and her crew from Oz. Additional fun features include momentary stops at the paddocks, home on the range, the Jurassic period, and even Lochness. 
The Southern Lights experience is certainly a wonderful and nostalgic family holiday activity that you'll want to revisit, or enjoy for the first time if you're new to the festival. Moreover, the lights serve a worthy cause, raising money for the Kentucky Horse Park. To date, Beeson said that the event "has raised nearly $10,000,000 for the Kentucky Horse Park ." So, if you're looking to have fun while supporting a local cause, plan to take in The Southern Lights Holiday Festival this season.