Quadeca's Latest Album is Worth a Listen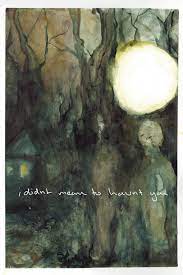 I didn't mean to haunt you is Quadeca's third studio album, being the follow ups to voice memos and from me to you. This album is Quadeca's first project 100% produced by himself. This album has completely redefined Quadeca's musical style and storytelling. The two prior albums have been a mix of hip hop rap, with a bit of contemporary RnB, but this new Quadeca album is something I have never heard before. It's truly a breath of fresh air from his other projects. This album is a psychedelic, indie pop, vocalist album about Quadeca being dead, and he writes the album as a ghost. This album follows Quadeca as he deals with his mourning family, reminisces on his childhood, and slowly passes on to the afterlife.
The first song "sorry4dying" is a great opening track and really sets the standard for the album. This song showcases the vocalalist side of Quadeca, with vocals even being incorporated into the production. This song is very catchy and fun to listen to while still having a sad and melancholy vibe. This song is about Quadeca going through his family's dreams and how he's with them while they are grieving and he tries to reach out to them, but they can't hear his screams. 
Track two "tell me a joke" is personally my favorite song on the album. Quadeca really experiments with this track much more than the first track. In this song Quadeca goes all in on the singer/vocalist style he used in the first track and that he flirted with on From me to you. The song is based around him trying to make what's happened to him seem funny to lighten the mood, to build this theme Quadeca incorporates jokes and laughing throughout the song. He does this with lines such as, "A man walked into a bar," "What's the deal with airline food?" and "That reminds me of my ex-wife." This masks the truly sad, depressing theme of the song. The vocals on this song are truly out of this world and some of the best on the album. This song has catchy, meaningful and memorable lyrics throughout its entirety, and is definitely one to give a listen to.
Track five "born yesterday" is a really orchestrated song, the production alone has over five hundred layers and the vocals are given a big reverb so the song feels really huge. The vocals combined with the chorus make this one of Quadeca's most catchy songs. This song tackles many different conflicts Quadeca is having with himself. Quadeca feels bad as he died before his birthday, and because he is a ghost his family didn't celebrate. The other theme is about Quadeca going through his childhood home and reminiscing on old memories as he tries to pass on. Quadeca also feels like everyone is lying to him and claims, "I wasn't born yesterday, I think you're godd*mn lyin" This song is truly something special and feels like it is almost perfect. It feels like this song can stand alone and still tell the story of the album. It feels like this is the song that has been thought out the most and is the centerpiece of the album.
Track nine "fantasyworld" is when Quadeca starts to pass on, he thinks about what he would want heaven to be like for him. This song is very sad and unlike "tell me a joke," it doesn't try to mask this theme. This song doesn't have the catchy style that the rest of the album has, and is very slow and more like a poem in song form than just a normal song. Even though this song doesn't have the energy of the other songs, it still carries a lot of meaning for the album and is a beautifully written song.
The features on this album are really good. Songs like "house settling" with Danny Brown that brings a more club music feel to the indie pop style album, and features like the sunday service choir on songs like "fractions of infinity" that end off the song beautifully and giving a church vibe as Quadeca passes on, so it feels like everything in this album has its place to make it what it is, and not one piece of the puzzle is missing.
Overall, I was truly blown away by this album, it seems like Quadeca wanted to create something no one has ever seen before and that's what we got with this album. I truly believe this album is one of the best storytelling albums we have gotten in the past decade. Quadeca brings so much to the table with this album and it's truly a great listen. Quadecas' growth since he dropped his first album, voice memos, it feels like with every album Quadeca releases he reinvents himself. I truly am happy to have been able to have seen his growth in his song writing, production, and genre. I put this album as a 10/10.