Knives Out: A Movie Review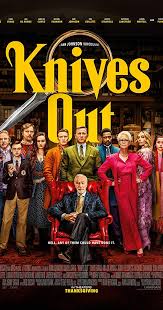 Rian Johnson's Knives Out, featuring actors such as Chris Evans, Katherine Langford, and Jamie Lee Curtis, is a thrilling, intriguing murder mystery-style movie released on November 27th, 2019. The movie is about a famed crime novelist who died just after his 85th birthday, and a private detective is hired to find the truth.
Detective Benoit Blanc, played by Daniel Craig, is the private investigator who must uncover the real reason behind Harlan Thrombey's death. Harlan Thrombey is portrayed by Christopher Hummer, known for his role as Baron Von Trapp in The Sound of Music in 1965. The story, though, really follows Marta Cabrera, played by Ana de Armas, as she struggles to keep herself safe after Harlan promises to protect her.
The casting of Knives Out is a large part of what makes this movie so fantastic. The actors casted all are believable in their portrayal of their characters. The most notable role was the main character, Marta Cabrera. Her demeanor echoed the emotions she was facing inside her situation of trying to escape a possible jail sentence if she were to be found out. One scene that showcases this is where she is going to confess to the Thrombey family that she killed Harlan Thrombey. 
Another great actor was Daniel Craig, who portrayed Detective Benoit Blanc. Craig rocked the accent and really convinced the viewer that he was Detective Blanc. This detective's role was essential in uncovering the truth: just the two policemen wouldn't do. Craig was very passionate about solving the case, as if it was extremely personal to him and his character. This created a sense of reality within his role.
The costumes made sense for the characters' personalities. Professional business woman, Linda Drysdale, played by Jamie Lee Curtis, was dressed in fitted pant suits while lower class maid Marta Cabrera was dressed in old sneakers and sweaters. The costumes reflected social class that played into the direction the story was pulling viewers in, such as sympathy for Marta Cabrera as a poor nurse with an undocumented mother, and feel a bit of anger at the Thrombey's for treating her so poorly after it is revealed she is the sole beneficiery of Harlan Thrombey.
However, the storyline left a bit to be desired. At a certain point, the plot got very twisty and confusing. There were bits of information that served no purpose other than to be filler, and there were many twists and turns in the case of Harlan Thrombey's death. Less of these twists would benefit the movie and make it less distracting to the main plot, which is finding out who murdered Harlan Thrombey.
All in all, Knives Out was a great movie that I would rate a 4 out of 5 stars.