Many Parents Face Difficult Decisions and Challenges Due to Pandemic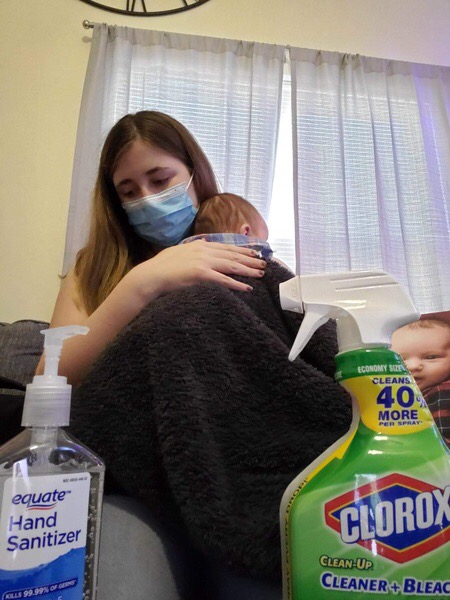 "No, I'm sorry, we have to stay home today." This is probably something every child has heard, and every parent has said during this pandemic. Children are getting less playtime, and parents are getting more concerned  as the covid-19 pandemic continues to spread across the globe. For most parents, worrying about your children coming into contact with objects or people who may hold the virus is very nerve-racking. Parents are choosing to keep their children away from their distant relatives, neighbors, and friends.  Parents are facing 2020's new challenges and doing their best to overcome them.
When people toasted to the new year, most people had bright plans for themselves and their families. No one probably imagined a worldwide pandemic, and parents didn't think about raising their kids in it. Many parents have very valid concerns when it comes to caring for their children. They have no experience in raising their children in an environment where some  grown adults are in constant fear for their safety and health, so many are unsure how to reassure their children of their own health and safety.
"
I don't say yes as quickly as I did before. It's a lot of thinking about the situation more than I ever would have before the pandemic."
— Leslie Murphy, GCHS teacher and parent
 Many parents have newfound worries about their children's future, especially parents of those children whose futures have just begun. Erica Bobadilla, a mother of a six-week-old baby, Levi Bobadilla, shared her concerns about her baby being born into a pandemic. "I think it's definitely going to be something where if he gets sick later in the future, I'm gonna look back and think, well, is it covid? Is it that serious? Is there a chance he's gonna die? You just think of all these horrible stories that people tell you about being put on ventilators, and they're perfectly healthy. So it is something that if he did get the illness, I would think is it gonna be one of those severe cases?" 
There is a lot more hesitation for some parents when they are allowing their children to have in-person social interaction. Many struggle between keeping a steady amount of social interaction for their children, and keeping them away from situations that are possibly associated with the virus. Leslie Murphy is an English teacher at GCHS and the mother of four children.  She explained that "I don't say yes as quickly as I did before. It's a lot of thinking about the situation more than I ever would have before the pandemic. For example, a friend wants you to come over to celebrate a birthday?  Well, how long are you going be there, where are you all going to be, how many others?  All those questions have to be answered before I say yes now."     
Other parents are worried that raising their children around a feared virus will make their children fearful of all illnesses. Bobadilla explained her thoughts on the situation. "I don't want him to get these horrible feelings towards being sick, because he's going to get sick,  so I don't want him to be scared of it." 
Some parents are choosing to have a positive outlook for the future regarding the path of the virus, and how it will have a play in their lives. Murphy said "While life during the pandemic is not perfect, I think it could be worse. My kids had some experience with being back to in-person school, and I'm hoping we get some more in-person school in the spring, and I think that kind of keeps my kids looking to the future.  It won't always be like this, it's going to get better hopefully."